Basic information
Name:Den Haan
Birthday:1947-04-08
Experience of feeding pigeon:
Main force:
Basic pigeon series:
Expert distance:260-500公里
Distance of the race:
Famous expert's introduction
Who Jan and Karen den Haan are mentioned, directly some keywords come in mind. Verbart 46, great champions, sympathetic fanciers and good pigeons. That above all; good pigeons. Fanciers from all over the world can confirm it. From China to America and from Scandinavia to South-Africa; many toppers find their origin at 'Het Rovershol', the home base of Jan and Karen in Honselersdijk.

The old strain super pigeons based on the legendary Verbart 46 is treasured by Jan and Karen like they are their babies. But the majestic 'Kleine Dirk' line also enforces the breeding loft. And the Van Loons, and diamonds of the strain Piet van de Merwe. This all as unique cross material to lift International pigeon sport to a higher level. Jan and Karen den Haan leave a glorious past behind them, with ahead of them an even richer future. In 2008 this was proven once again, with an NPO victory on Nanteuil and two National top 10 positions on Ablis. That also the 1. Nat. young acebird NPO and 1. Nat. acebird WHZB of the month June are bred at the Rovershol, once more shows the enormous strength of this fabulous colony!






Friendly, sympathetic, helpful. But above all real pigeon people with heart for their feathered friends and the sport in general. That is Jan and Karen den Haan. The man-wife tandem that gave pigeon sport a kind of magic with their 'Rovers'. And since 2000 they focussed pure and alone on young bird racing. Time to introduce Jan and Karen.

Karen den Haan is trendsetter in pigeon land, where a woman's hand is capable of performing miracles. In an illustrious line with a/o Marijke Vink and Nadia Houben she takes a prominent position. "I look at the pigeons as my babies," says Karen. "With the young team I always had a special relation. They are always very tame and therefore I am convinced they do not even need a partner as youngster or must be raced on widowhood system; the boss is their motivation. Handling pigeons is still the most beautiful thing in our sport."

For many year Jan and Karen belong to the elite in the iron combine Kuststrook (means: Coastline). Where Jan's role is mainly managing. "I'm forced to," he explains. "We owned a painting-company for many years, unfortunately it damaged my bronchial tubes in such a way, the doctor forbid me to enter the lofts. But my long experience and Karen's love for the pigeons is a golden combination. Together they enjoy the sport daily. We consider lifting our Verbart strain to exceptional highs by well considered crossing as a continuing challenge.
The home base of Jan and Karen den Haan. Where so many International top pigeons find their origin and where pigeons sport at the absolute highest level is practiced for so many years already. Over sixty pairs of breeders secure superb offspring.

The base for success was laid in the middle Eighties when thirty pigeons of the best Verbart lines through Krouwel-Pollmann were purchased. At that moment Jan and Karen already owned the top cock 'Rover', a great son to the icon 'De 46' of Piet Verbart, winner of 15x 1. prize and one of the most legendary sons to 'Vechter' x 'Witpenneke' of Jos de Klak. The fighter 'Rover' was placed in a separate section where he was paired to three hens at the same time; the Rovershol. Not much later also the hen 'Freule' came to Den Haan, a daughter to 'De 46'.

For sublime cross material they went to Bertie Camphuis, where a round of eggs and a dull brother to 'Famous 05' (1. Nat. acebird middle distance WHZB 1981) were acquired. Again a fighter, therefore the nickname 'Rode Sloper' (means: red demolisher). The absolute star of the loft is the cock 'Provo', bred from the legendary '811' of Krouwel-Pollmann, one of the best sons to 'De 46' ever. Mother was a direct Janssen hen bred from 'Blauwe van 69' x 'Duifke van de Schonen onder de Tafel'. A whole regiment of 'Provo' descendants conquered the pigeon sport.

These founding pigeons formed a miraculous strain of top prize winners. That excels throughout the world every week. Therefore many inbred pairs function as treasure-keepers. The last years ideal cross material was found in numerous grandchildren to 'Kleine Dirk' via Pieter Veenstra and pigeons of Piet van de Merwe and Van Loon origin.



The breeding miracle at the loft of Jan and Karen den Haan. Under his descendants a great number of top racers!! Some of the best on their own loft:
- 'Asterix':
1. acebird in combine South-Holland
- 'Sander':
1. Moeskroen 25,000 b.
- 'See you Later':
1. Orleans 8,440 b.
- 'Bernard':
1. LF Bernard 5,513 b.
- 'Bonaparte':
1. Ruffec 3,581 b.
- 'Sweetness':
2. Chantilly 13,553 b.
3. acebird in International Eijerkamp competition
- 'Ufo':
2. Creil 20,254 b.
- 'Roxanne':
2. Peronne 20,299 b.
- 'Pinocchio':
5. Nat. acebird 1998

But at many other fanciers the 'Provo'-descendant also grew out to worldwide toppers … A small selection of the best offspring.
Bertie Camphuis (NL)
- 'Autodoffer':
1. Chimay 2,391 b.
1. Etampes 2,423 b.
2. Etampes 6,676 b. (car winner)
- 'Broer Autodoffer':
2. Chimay 2,391 b.
2. PS Maxence 3,553 b.
2. PS Maxence 7,428 b.
- 'Golden Boy':
1. Nat. Orleans 10,940 b.

Hans Eijerkamp & Sons (NL)
- 'Joyrider':
1. Houdeng 2,305 b.
1. Minderhout 1,546 b.
3. St. Ghislain 4,993 b.
- 'Zus Joyrider':
1. Minderhout 3,590 b.
2. Hannut 6,585 b.
- 'Mister Loverman':
1. Nat. cock WHZB 2000
1. Duffel 8,053 b.
1. St. Ghislain 2,525 b.
1. PS Maxence 1,127 b.
2. St. Ghislain 4,556 b.
2. St. Ghislain 4,362 b.

Harm Vredeveld (NL)
- 'Loverboy':
1. worldchampion young Versele Laga 1996
1. Houdeng 4,327 b.
2. Hannut 6,585 b.
3. Hasselt 6,828 b.
3. Hannut 5,807 b.
- 'Game Boy':
2. Nat. acebird young WHZB 2001
- 'Bandit Queen'
1. Nat. acebird young WHZB 2001
1. Nat. youngster WHZB 2001

Freek Wagenaar (NL)
- 'Garfield'
1. world champion young Versele Laga 1997
1. Chimay 3,784 b.
1. Lommel 3,590 b.
1. Etampes 1,136 b.

Coffa & Son (NL)
1. Argenton 24,000 b.

Gerard Boesveld (NL)
1. Nat. NPO Troyes 10,378 b.
2. Heverlee 6,973 b.

Techavichian (Thailand)
1. Chunporn (317 km) with 'First Lady'

Herman Beverdam (NL)
1. acebird Long Distance Union Twente

Rob v.d. Bijl (NL)
1. acebird middle distance combine South-Holland East
5. Nat. NPO Etampes 5,858 b.

Mike Page (Engeland)
With grandchildren to 'Provo' 19 x 1.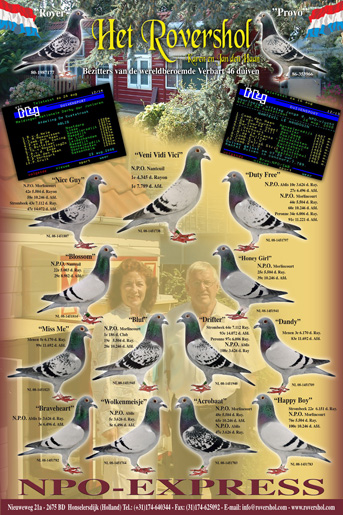 Highlights 2007
Chunhui international one loft race
October 28th, 2007; final race (480 km)
'Champion Chunhui' NL07-1730941
1. prize from 4,918 birds
4. champions loft
Father: 'Freshman', 12. Nat. NPO Chantilly 9,712 b. from 'Cardinale'
Mother: 'Little Sweetness', from 'Sweetness' 2. Chantilly 13,533 b.
Delta-Club Hungary International one loft race
September 1st, 2007; final race
'Delta' NL 07-1730655
3. prize and winner 1.500 euro
3. acebird and winner 300 euro
The top racers of 2007: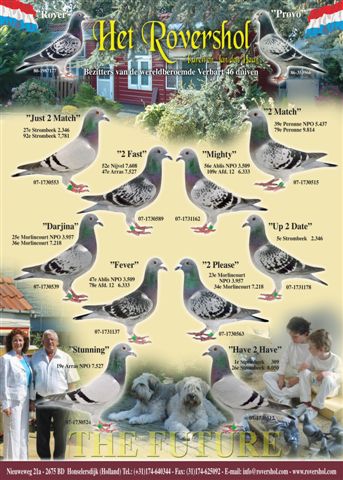 The top racers of 2006 – click here
The top racers of 2005 – click here
Highlight of the past years:
1. acebird combine Kuststrook approx. 20,000 birds ('Asterix')
1. overall champion combine Kustrstrook
1. young birds champion combine Kuststrook
2. National champion youngsters NPO
2. overall champion combine Kuststrook
2. old birds champion combine Kuststrook
2. young birds champion combine Kuststrook
3. young birds champion combine Kuststrook
5. National acebird one day long distance NPO ('Pinocchio')
| | |
| --- | --- |
| 1. Moeskroen | 35,000 b. ('Sander') |
| 1. Creil | 8,919 b. ('UFO') |
| 1. Peronne | 6,688 b. ('Roxanne') |
| 1. LF Bernard | 5,513 b. ('Bernard') |
| 1. Arras | 5,284 b. ('Peter Pan') |
| 1. Ruffec | 3,581 b. ('Bonaparte') |
| 1. Arras | 3,568 b. ('Personality') |
Selection of the best races in big competition:

| | |
| --- | --- |
| Chantilly | 13,553 b. |
| 2-4-5-etc. | |
| Ablis | 11,312 b. |
| 6-7-49-50-etc. | |
| Chantilly | 9,712 b. |
| 13-16-19-21-22-24-27-etc. | |
| Ablis | 6,705 b. |
| 3-9-12-etc. | |
| Gent | 6,314 b. |
| 5-6-7-21-22-24-28-29-36-37-etc. | |
| Morlincourt | 5,639 b. |
| 3-10-19-38-etc. | |
| Strombeek | 3,955 b. |
| 10-11-12-13-14-18-48-etc. | |
Auction record
Information about the pigeon
Price
Member
Trading instruction